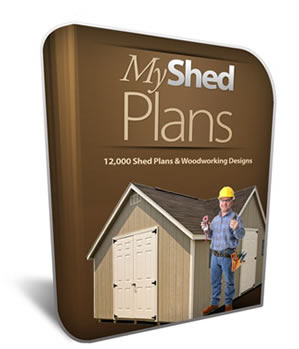 If I had to do it again I would definitely build my shed from scratch!
While the prefab, all 'plastic' kit I purchased had a number of great advantages, at the time:
Very fast assembly
Zero maintenance
Great size
Reasonable price
I am disappointed in my purchase decision as I have discovered that it has some real weaknesses, particularly for northern climates:
Snow loading has required me to augment the roof with a standard wood frame and single roof and to build external supports for that roof
The plastic material does not stand up to rough usage - for instance in the cold the bottom of the shed doors have been chipped with a snow shovel.
The security is flimsy
My Next Shed
For the next shed I will definitely get a plan that I like -- they are generally very reasonably priced under $30, purchase the building materials and build the shed myself. My experience building the cottage has shown me that the cost of the materials will come close to 'plastic' kit prices, but with the advantage of greater longevity and security.
Searching the Web for Shed Plans
In doing some preliminary search on the web I have found that there is a multitude of sites that offer shed plans, but very few have a great selection. One site which has my interest is a site called
My Shed Plans
.
'My Shed Plans' has a library of over 12,000 plans. I downloaded one that close to what I am looking for. Here is a sneak peek at the
sample shed plan
I downloaded.
Get a $10 Discount on Shed Plans...
If you take this link to 'My Shed Plans' there is a
$10 Discountt
on the shed plans.

Related Posts:
Reinforcing a Shed Roof
This fall I reinforced the shed roof with a couple sheets of plywood. It was a hastily done task as it was snowing at the time - I used some scrap lumber I had left over from the Cottage construction. But it was very necessary! ...
Lesson Learned: Buy Sheds Designed for Canadian Winters
The shed you see in the picture was purchased at Costco. Quite inexpensive for the size of the shed but it is totally unsuitable for the volume of snow we get in Canada. Manufactured in Israel - sold in Canada. ...
It's beautiful... Even with all the snow!
We did have to clear snow off the
shed
as it was feeling the pressure under the three feet of snow on it. We paused for a lunch break sitting on the tailgate of my Jimmy, waving at our neighbours as they passed by. ...
;-)